To say that we are living in strange times these days is really an understatement, and not even necessary at this point since lots of people have already said it. But, I said it again. LOL
I have been working from home almost three weeks straight now. I have a scheduled vacation coming up next week.
It has been planned since the beginning of the year and it involved traveling on a jet plane to the land of upside-down (California) to see family. With much thought and general angst, that trip has now been postponed to a later date (TBD). But, that didn't cancel my vacation. It will not just be a lock-down staycation…yeah, that'll be fun…
BUT, before I go, I just got assigned a special assignment (like literally 10 minutes ago) that I have to complete in two days. Normally such a project takes two weeks.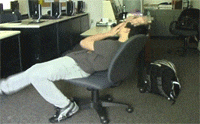 So, I'll be self-isolating myself to my garage home office to make it happen.
Isolated while being isolated.
That doesn't have a nice ring to it.