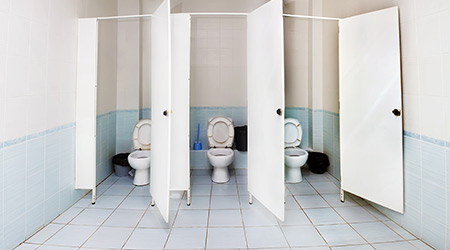 I have a co-worker who I have now determined to be a bathroom hider.
He isn't a directly associated co-worker. He is in the same organization but on another team and I don't work with him directly.
Anyway, I have noticed a trend with this guy. He goes to the bathroom on a pretty regular basis, like at least twice an hour (know this because he walks righ past my cube). When I have had occasion to enter the bathroom I have noticed he is parked in the farthest stall in the room (I know it's him because of his rather distinctive shoes). The unusual thing about his bathroom visits is that he is quite obviously going in there to watch videos (no, not that kind…). I have heard them echoing throughout the space from outside the door but as soon as you open the door he silences what he is watching. After you have left the room, he unmutes again.
His bathroom visits last somewhere 10-15 minutes (think of that as between 20 and 30 minutes of lost productivity per hour).
I hope you aren't thinking I am a creeper…I am not. I just notice things. I notice things that most people probably don't. Details. I just happen to notice this stuff because he literally makes a trek past my cube at least four times per hour. But I am probably not the only one. I'll bet his co-workers (people actually on his team) have noticed his afrequent absences too; however they may not know what he is doing during that time or where he is going.
So, just curious, do you have a person or people like this at your place of employment? Do you have a bathroom hider? A beverage hanger (someone who hangs out at the watercool or coffee pot to shoot the breeze)? A visiting ducker (a social butterfly who visits every cube/office to chat to avoid actual work)?
Yes, I made those all up. Got a better name for them?